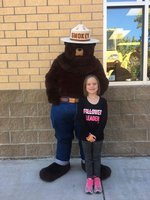 Carleigh Lunn and her Hero, Smokey the Bear
Fire Safety and Prevention Day was observed at McKenzie Elementary School on Friday, October 21.
Fire prevention is a function of many fire departments. The goal of fire prevention is to educate the public to take precautions to prevent potentially harmful fires, and be educated about surviving them. It is a proactive method of reducing emergencies and the damage caused by them.
We are appreciative of our local Fire Department, Emergency technicians, and Smokey the Bear for coming to MES to talk to our young students about fire safety. Our students were educated and also had a fun time with Smokey.
Not only did the students enjoy their learning sessions, but our own Assistant Principal Tonya Brown checked off an item on her bucket list. Tonya has always wanted to experience the mechanics of a frontloader and today was her day to do just that!