Dear Parents,
In regard to the Corona Virus (Covid-19) spread, they say things will probably get worse before they get any better.
That is why we have decided that we will do everything in our power to help you help those you care for.
We will do this by helping you inspire the resilience, coping, and acceptance skills that we are all going to need in this turbulent time with the 'The Crisis Kit'.
It's a free, downloadable PDF containing five of the most relevant, science-based positive psychology tools.
Upon clicking the link, you will find the following tools:
Eye of the Hurricane Meditation (+ audio)

Dealing With Uncontrollable Circumstances

The Unwanted Guest

Window of Tolerance

My Resilience Plan (The Four S's)
These are some of the best tools we know of for helping people to:
use their mental resources well

connect to a place of inner peace

become aware of factors within and beyond personal control

practice acceptance-based coping

remain calm and composed in the face of stress
My hope is that you will download and read this PDF and find more ways to be of help to those you care about.
You may find something in it for your own peace of mind.
'The Unwanted Guest' tool, for example, has been of great help to me in dealing with intrusive 'unwanted' thoughts.
I hope you and your family stay safe.
https://positivepsychology.com/the-crisis-kit/?utm_campaign=enormail&utm_source=enormail&utm_medium=email&utm_content=download%20it%20directly%20on%20this%20page
Regards,
Beckie Smith
School Counselor
Back-to-School Tips
Connecting with Your Child's School Counselor for a Successful School Year

Understand the expertise and responsibilities of your child's school counselor. School counselors make a measurable impact in every student's life, assisting with academic, career and personal/social development. Professional school counselors are trained in both educating and counseling, allowing them to function as a facilitator between parents, teachers and the student in matters concerning the student's goals, abilities and any areas needing improvement. School counselors provide services not only to students in need, but to all students.

Meet or contact your child's school counselor at least three times per school year. The beginning of a school year is an excellent opportunity to initiate contact with your child's school counselor and doing so can ensure your child's positive school experience. Find out who the counselor is and what his or her experience and background are. By communicating with one another at the beginning, middle, and end of the school year, parents and counselors can have a definite impact on a child's success.

Discuss your child's challenges and concerns with the school counselor. As a parent, you know your child best. However, the school counselor can help you better understand your child as a student. It's important to encourage your child's expression of needs, hopes and frustrations. School counselors are trained to help your children.

Learn about your child's school and social connections from the school counselor. When you need information or assistance, your child's school counselor can help you get in touch with the appropriate school officials; learn about school policies on behavior, attendance, and dress; know the school calendar of important dates and stay connected with the school in many other ways. The school counselor can also help you locate resources in the community when you need them.

Work with the school counselor to identify resources and find solutions to problems. If your child is having a problem at school, it is important to work with your child's school counselor to find solutions. Discuss resources available within and outside of the school, and get information on how such programs can benefit your child. Your school counselor can be a valuable partner in your child's education and preparation for life beyond school.

Suggested Web Sites
Kids Health: Going back to school for kids
Firstgov.gov: Back to School

Use the links below to visit various sections of the
"Guidance Page!"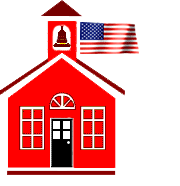 About Mrs. Beckie Smith
Procedures, Consequences, and Rewards for Guidance Class